BLYGOLD is the first choice in corrosion protection for HVAC equipment
Quality

 Over 40 years of experience

 Unique application techniques

 Unrivalled test results

 All trained & qualified applicators

 Global Quality Standard

 ISO 9001 Certified
Innovation

 Revolutionary R&D

 Inhouse laboratory

 Deep understanding of the Market

 Global awareness of customer needs

 Problem solving mentality
Sustainability

 Lifetime extending

 Energy saving & Eco Friendly

 Life Cycle Cost reducing

 Maintenance friendly

 Corporate Social Responsibility
Blygold coatings provide a remarkable long lasting and resilient corrosion protection for RTPF (Round Tube Plate Fin) heat exchangers…
The Micro Channel Heat Exchanger (MCHE) development originates from the automotive industry where it has been used since more than twenty years now…
Finned tube heat exchangers are often the first choice in power plants, offshore rigs and heavy industries. This type of finned tube bundles are known for the high quality…
Cabinet & Casing Coating
Blygold offers a wide range of HVAC coatings developed for the interior and exterior of HVAC equipment…
Dear our valued customers,
Blygold is an innovative and forward-thinking company in Netherlands offering unique and sustainable high-quality protection against corrosion of heat-exchangers. With over 40 years experience, BLYGOLD have the know-how and state-of-the-art products and techniques to solve any corrosion problem.
Blygold works with a global network of the best trained and licensed applicators, creating the same high-level of quality applications all over the world. Our Global Quality Standard, thoroughly tested products and specialised unique application techniques offer the best corrosion protection measures available. Blygold corrosion protection systems can only be applied by certified and licensed applicators. The Blygold treatments of heat exchangers are available through an international network of Blygold Licensed Partners. Our global network of qualified Blygold applicators can offer local support in over 60 countries around the world.
Blygold Vietnam was established and granted the exclusive right as the Mastor-Franchisor within the teritory of the country in 2018. Following the successful Technical Training held in the Headquarter of Blygold International BV. in Houten, Netherlands, Blygold Vietnam has been authorised as the certified and licenced Blygold applicator and in fully operational in Vietnam.
Since thence, Blygold Vietnam has introduced the Blygold treatment to provide corrosion protection for condenser coils of air-con outdoor units in coastal areas of several projects in Vietnam. Blygold Vietnam is providing the professional corrosion protection for air-con equipments through heat-exchanger coil coating treament which can withstand extremely aggressive environment, extend lifetime while maintaining heat transferability of the heat-exchanger coils.
With all the above-mentioned advantages of Blygold's anti-corrosion treatment, Blygold Vietnam strongly believe that the Blygold's services will always benefit and satisfy the needs of our clients to improve the performance of the HVAC system, especially for many projects in the coastal areas of Vietnam.
We trust that our services is beneficial and meets with your requirement.
We look forward to being of services.
Yours sincerely,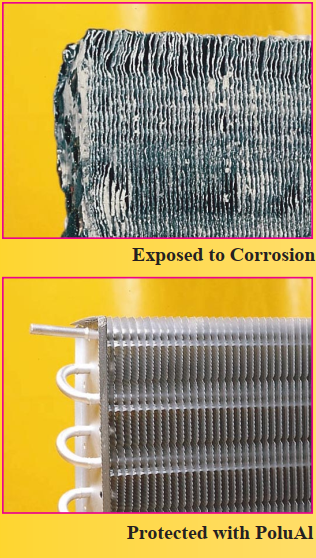 Heat Exchanger Coil's Corrosion Problem And Performance
by aHien | Apr 27, 2020 | Blog, English, News |
The biggest short to medium term impact of corrosion on air conditioning equipment is loss of energy efficiency and hence increased running costs. The longer term impact of corrosion can include very significant energy efficiency loss as well as the total failure of individual components or the entire system.
The real cost of this corrosion is in your energy costs.
Damaged or corroded fins can lead to premature failure of other components within the system. Damaged fins on a coil can impose extra static pressure on fan motors and blades leading to overheating and or eventual failure. Corrosion can lead to less heat transfer taking place, an elevated suction and condensing temperature, leading to compressor overheating and eventual failure.
A damaged or corroded condenser coil will lead to an eventual costly component failure, but it is the cost along the way that is the real "hidden" cost. This can be as much as a 30% increase in running amps, 35% increase in power consumed and as much as 25-30% loss in cooling and or heating ability.
Heat exchanger fin corrosion might look like minor damage to the naked eye and is often disregarded with a "She'll be right for another few years". Yes, it probably will last a few more years but what is the real cost in increased electricity bills…
The Lastest Projects Of Blygold Vietnam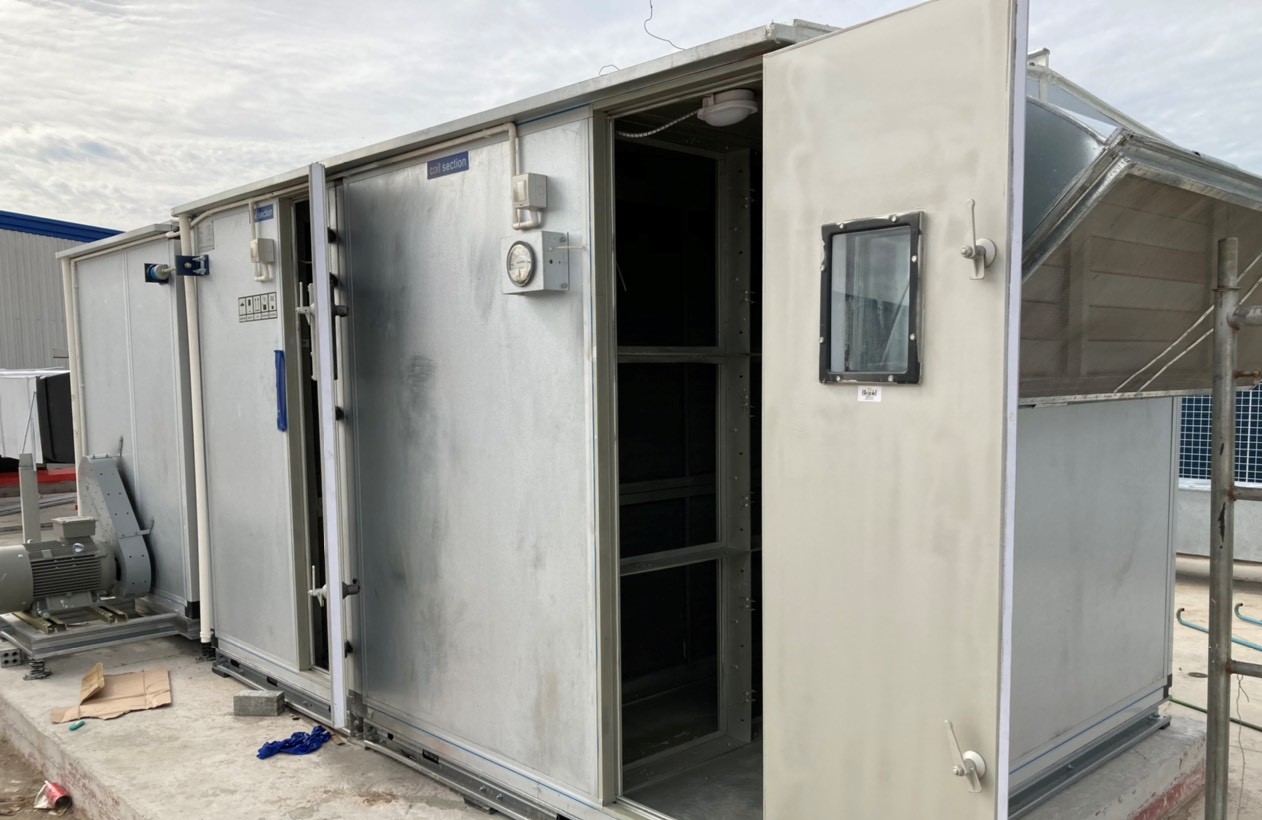 Lotte-Sea Logistics Long An - On-site Application
Lotte-Sea Logistics, Long Hau Industrial Area, Long An Province
Client: VSD Viet Nam Co., Ltd
Blygold PoluAl-XT coating for Air Handling Unit model AHN-453, equipment item HVU-01, icluding HX coils and attached casing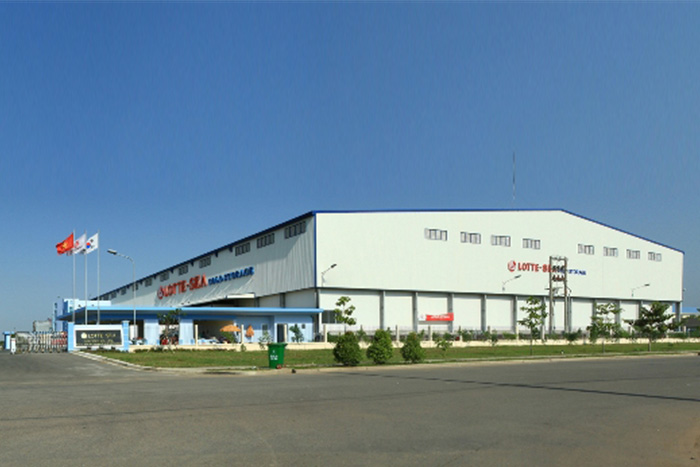 Lotte-Sea Logistics Long An
Lotte-Sea Logistics Warehouse, Long Hau Industrial Area, Long An Province
Client: Entanpi Technical and Trading Co., Ltd
Blygold primer Refamac 3509 and top coat PoluAl-XT for about 700 m2 surface of air ducts and its accessories
A Selection Of Partnerships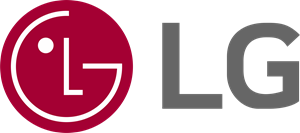 76/8A Thanh Sơn, Thanh Binh ward, Hai Chau dist., Da Nang, Vietnam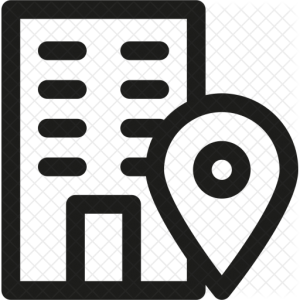 8/10 Gò Dầu, Tân Sơn Nhi ward, Tân Phu dist., Ho Chi Minh city,                      Vietnam

       Trần Đức street, Hoa Khanh Nam ward, Lien Chieu dist., Da Nang,                    Vietnam
www.facebook.com/blygoldvietnam